2009 silver proof sets and more Lincoln centennial-Bi-Centennial & GOLD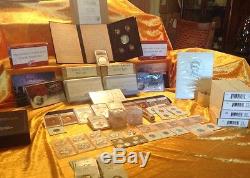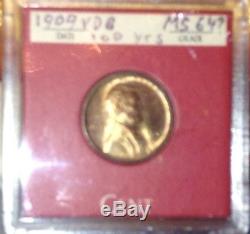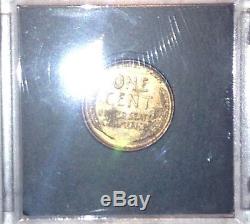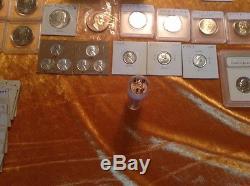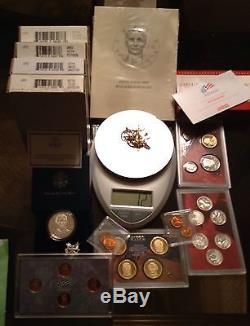 THIS IS TO YOU OUT THERE! THIS IS YOUR LAST CHANCE TO GET NEARLY 1/4 OUNCE OF PURE GOLD! THEY WERE MARRIED BETWEEN 1920 AND 1923, SO DO THE MATH!!!!!!!!!!!!!! I DON'T KNOW WHICH GRANDMOTHER IT WAS, BUT MY MOTHER'S WAS MARRIED IN 1923, AND MY DAD'S WAS MAEEIED IN 1920, SO IT WAS PRODUCED BETWEEN 1918 AND 1923!
I REALLY NEED TO SELL THIS OFFERING SO GET ON THE STICK AND BY IT FOR CHRIST'S SAKE!! SO I CAN CLOSE THIS STINKING OFFER!!!!!!!!!!!! ADDED TO TOTAL 12 GRAMS IS ANOTHER 1 GRAM OF 14 K GOLD, =. 5833 GRAMS OR 7.59 GRAMS PURE GOLD (NEARLY 1/4 OUNCE) + A THIRD FULL SILVER PROOF SET AND 4 MORE 1960 RED SMALL DATE PENNIES!
/ (HERE OR AT WEBSTORE. The open set is for display purposes only! 1-2009 NGC ms70 Abe Lincoln commemorative silver dollar. 3 -2009 Silver proof sets (18 coins each). 2-2009 Clad proof sets (18 coins each).
2-2009 Silver Territories proof sets. 1-2009 clad territories proof set. 3-2009 US Mint Sets one set is out of the box, the other 2 sets are in original sealed mint boxes. 1-Business strike set of bi-centennial copper over zinc pennies (8 coins from the four periods) in rigid plastic 2X2s. 1-SATIN FINNISH set of 95% copper bi-centennial pennies taken from another 2009 mint set (8 coins from the four periods) in rigid plastic 2X2s.
2-1909 Wheat Cents in xf to au condition. 1- middle mint state 1909VDB Wheat cent in rigid plastic 2X2 mostly red with some brown. 1-1909S Wheat cent in an NGC slab with a Fine 15 grade. All representing the 100th anniversary of Abe's birth. 1-1934 PCGS ms65 red Wheat cent (for 125 years).
1-1934D NGC ms65 red Wheat cent (125 year S AND THE SCARCER OF THE TWO), 3- P, D, & S brilliant uncirculated 1943 wartime steel cents sets (9 coins total). 3-1959 Memorial cents P, D uncirculated and one Proof 1959 cent (150 years).
3- 1984 Memorial cents P, D in mint cello and a deep cameo 1984S proof cent (175 years). 1- separate 2009 Bi-centennial commemorative 95% copper penny proof set with cert.
5- 2010 Lincoln Presidential dollars 1-P & 1 D biz strike BU..... 1-P & 1 D SATIN FINNISH strike BU from a 2010 mint set..... And one deep cameo 2010 S proof dollar all in rigid plastic 2X2s... For parallels to JFK because there are! 3 P and 3 D BU 2009 Kennedy Halves from a mint bag (very low mintage).
1- 1964 AU-BU 90% silver Kennedy Half. A 1960 P & D large date cent BU red, 6 -1960 BU red small date pennies, and an entire roll of 1960D BU small date pennies. To complete Lincoln's Bi-Centennial you are getting the LP-1, LP2, LP3, and LP4 two-roll boxed set of cent rolls (unopened from the mint). + 1 2010 1 5/16 US MINT Lincoln Bronze Presidential Medal. To complete 2009, there was another Bi-Centennial that year......... The Louis Braille commemorative proof silver dollar and the 2009 Braille Education Set which came in at under 25,000 sets due to the economic depression we had that year.
Many couldn't afford this because of that. Included is a 9X12 framed compendium of facts that parallel both Lincoln and Kennedy, with photos of both in the upper margins suitable for hanging. COMPLETING THIS YOU WILL FIND IN AN ENVELOPE APPROX. 7.58 GRAMS NET PURE GOLD FROM SOME SCRAP 14K JEWELRY (that includes the addition of the BRISTOL 14 karat gold wedding band).
THAT'S NEAR 1/4 OUNCE OF GOLD! YOU GOTTA DO THE MATH HERE! OVER 760 COINS in this offer! The 2009 SATIN pennies and three mint sets are sleepers because they are needed by penny collectors and there were only 784,000 sets produced, so the 95% SATIN BU copper cents are quite rare and costly to obtain, and will only get harder to come by as time passes.
You're getting just one of those. The following SLABBED COINS come with this offering: 3-1976P Bi-Centennial Clad Quarters from the International Numismatic Bureau- serial #s 2212638124, 2212638125, and 2212638127, rated MS70 as an additional bonus......... 1-1959 Philadelphia Mint Lincoln Memorial cent from the International Numismatic Bureau-serial # 2212640524 rated MS69 (part of regular offering), the above mentioned 1934D MS65 red penny from NGC...
1-1909S Lincoln cent from NGC serial # 3372572-006 rated Fine 15... 1-1934 Lincoln cent from PCGS, serial #2635.65/16971999 rated MS65 red... And finally, 1-2009P Lincoln Silver Bi-Centennial Dollar from NGC serial # 3291436-145 rated MS70.
A total of 8 slabbed and rated coins. ADD IT ALL UP INDIVIDUALLY.... TAKE THE TIME AND USE DISTRESS PRICES FOR EVERYTHING AND SEE WHAT YOU COME UP WITH!
EASY RE-SALES CAN BE MADE HERE BY ENTERPRISING EBAYERS AND DEALERS!! I WILL BE REVISING IT OVER THERE TOO! The item "2009 silver proof sets and more Lincoln centennial-Bi-Centennial & GOLD" is in sale since Wednesday, March 16, 2016. This item is in the category "Coins & Paper Money\Coins\ US\Proof Sets". The seller is "kenneth7981" and is located in Port Richey, Florida. This item can be shipped to United States.
Certification: NGC
Certification Number: 3251884-015
Grade: MS 65
Year: 1934
Circulated/Uncirculated: Uncirculated
Strike Type: Proof
Mint Location: Denver
Composition: Copper
Country/Region of Manufacture: United States